High technological capacity to fulfill needs.
A partnership in manufacturing.
Manufacturer of packaging machinery for pharmaceutical
---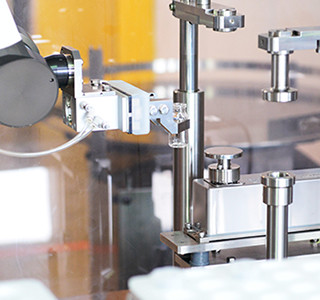 Up to the early 1980s, we had been measuring medicine by hand that then were bottled. In order to automate this measuring process to increasing efficiency, we have asked the help of Shinko which lead to our long-time relationship.
The built-in weighting system DFB series that we adopted at the time had the capability to weigh at a speed no other maker could, making it the most appealing product.
With the products UF series we currently are using, the required time for warm-up has shortened to 0.4 seconds and is waterproof for the realization of faster and safer measuring. At our company, a 0.1 second reduction in time to produce one item results in an increase of 20% regarding productivity. The challenge to minimize time to measure is a curtail one for us.
For such needs that we have, Shinko makes sincere considerations and comes up with solutions. We have established a relationship as partners that makes further developments as a team.
---